This is gonna be a short post cos there's lots to do today. I've just realised I have exactly 2 weeks left before the China trip, in which I would need to sew cot sheets for the travel cot, get baby J used to sleeping in the cot, figure out his meals for the trip, find a suitable dog-sitter (and train him/her to handle our very opinionated and crazy dog) as well as finish my Master's assignment (of which I've yet to find a suitable topic!). That's aside from the usual housework and other stuff we already have in our schedule. I can just see hubby giving me the look that says "So why are you still blogging now? Go do those things!"... Ah well, I treat blogging as a break for me to just "pensieve" out my thoughts, so just give me a 10 minute break! Ok, so the books we've been reading this past week are:
Unwitting Wisdom: An Anthology of Aesop's Fables
This was one of the first children books we purchased from Borders. I think any child's library should contain some version of Aesop's Fables, it really is a timeless classic! This version is GORGEOUS, from the typeface to the colours to the illustrations, so its no wonder it was an award winner! It makes for pretty easy reading since each story spans across 2 pages, perfect for baby J's pretty short attention span.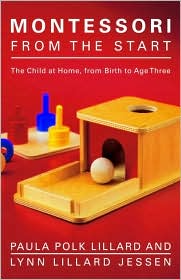 Montessori from the Start: The Child at Home, from Birth to Age Three
I borrowed this from the NIE library. Figured that since I have to pay school fees, I might as well make full use of their library, especially since they mainly specialize in education! They have a huge collection on early childhood learning, so I've grabbed a few off the shelf on Montessori learning methods. I've yet to read much, but so far, the book looks interesting, and very promising!
Ok... back to housework now...